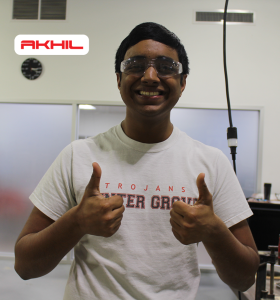 What grade are you in?
I'm a junior.
What is your position on the team?
I am currently a sub-team captain who is in charge of designing a firing mechanism for fuel, and a contraption to transport gears.
What have you been working on?
Currently, I have been working on a prototype flywheel launcher for shooting fuel.   
What is your favorite part of Red Alert?
My favorite part of Red Alert Robotics is that students have the ability to learn vast amounts of material about a variety of different topics. For example, students can learn the aspects involved in writing a business plan or, if they are interested in engineering, they can learn how to use industrial tools such as mill.
What are your after graduation plans? College? Major?
After high school, I plan on pursuing a bachelor's degree in some engineering field, and if possible, a minor in business.Then I would like to get a master's in engineering at Stanford. Post-college, I plan on starting a company from which I can play a small part in helping change the world.
If you could go back in time, what time period would it be and why?
If I could go back in time I would go back to the Gilded Age so that I could visit America's first industrial giants. Visiting people such as Andrew Carnegie and John Rockefeller would help me learn the basic business principles of successful people.
Who's your favorite cartoon character and why?
Although i enjoy a variety of cartoons, my favorite character would have to be Danny Phantom because of his ghost like powers and, most importantly, theme song (which is liiiiit).