This past Saturday, October 18th, Red Alert Robotics celebrated a victory at Cage Match, an off-season competition that lets teams meet and compete in a friendly atmosphere. The team placed fourth seed overall in the qualifying rounds. Nearing the end of the competition Red Alert chose their alliance partners, teams 1024, 1646, and 5402, ultimately leading to victory. Although it was a rocky start with one crucial loss we managed to beat the odds and come back to win the competition.  This victory, coupled with winning State, has put the team in high spirits, which hopefully leads to a good future. 

Cage Match also allows for new team members to experience the competition environment. This event is a great opportunity for members to practice driving the robot. Team member Ashley Varney said "I loved getting to drive, it was so fun!" Every year at this event Red Alert hosts a silly science fair which is a space where students and children alike can learn about robotics, build with legos, get their faces painted and have educational and safe fun. Overall it was a great day with many wonderful experiences for old and new members alike. Red Alert couldn't have won without the help of their amazing alliance partners, teams 1024, 1646, and 5402, and would like to extend our thanks for all their great work.
       Shown left to right: Conner O., Tommy R., Ashley V.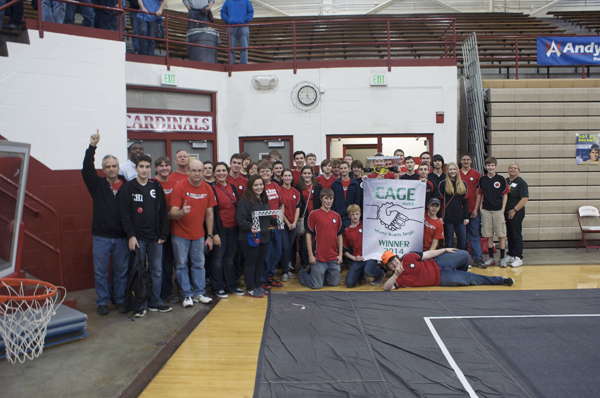 Team Photo 
                            Red Alert cheering on our team