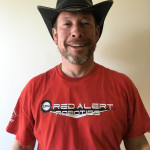 Congratulations to Mr. Schmoll, our mentor of the week. Mr. Schmoll is a very valuable mentor to have on our team. He works with students and helps them learn how to use tools and machines to the best of their ability. He spends a lot of his time at our meetings making sure that our students are working hard and efficient. Not only is he a role model to our students, but he also helps us set up wooden game pieces so our team can practice playing the game and running our robot.
What do you do on the team?
I help build game elements and help students working with machines for parts that go on the robot.
How long have you been on the team?
I have been with FRC for 3 years.
What's your favorite part about being on Red Alert?
Watching students grow their skills and knowledge with hands on experience with building the robot or interacting with people, adults and kids, at outreach events.
What do you do outside of robotics?
I work full time and try to spend time with family and friends.
If you were to make a theme park, what would it be like?
It would be a family oriented park with lots of roller coasters and water rides. It would also have many interactive attractions with robots and other animatronics for kids.
What would be your ideal location to live?
Colorado or Montana with lots of wide open areas to have horses.