This fall, Red Alert took part in two offseason events. The first event was Indy RAGE, which is an all girls FRC competition. Our girls won the Design Award, and were finalists along with teams 4103-Roborioles, 1501-Team THRUST, 3947-The Last Crusaders. Mrs. Miller, one of our mentors, won the Mentor Award.
The second event was CAGE Match. Red Alert won the STEM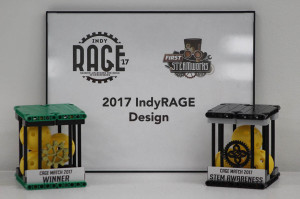 Awareness Award and were champions along with 234-CyberBlue and 5188-Area 5188: Classified Robotics.
Thanks to all of the volunteers and sponsors that made the offseason events possible. A special thank you to FRC 1529-CyberCards for co-hosting CAGE Match.