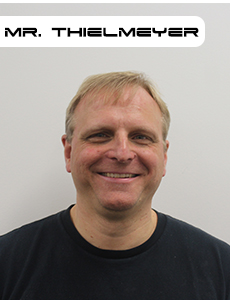 What do you do on the team?
This year I've helped build the field and in the machining area.
How long have you been on the team?
My first year was Breakaway in 2010.
What's your favorite part about being on Red Alert?
I like the fact that students are learning to make something. The world needs more people who understand how to design answers to problems.
What do you do outside of robotics?
I'm an electrical engineer at Cummins. I also like volleyball, bicycling, and home improvement projects.
Is cereal soup?
No, they are different.
If over time you replace parts on your car, at what time does it stop being the same car you bought? How many parts do you need to replace to make it a new car?
It's still the same car because the better question is: If all the cells in your body regenerate every 90 days, are you still you?