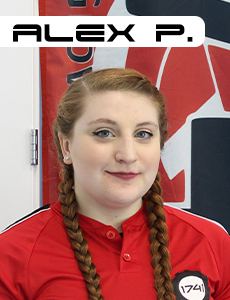 What grade are you in?
I'm a senior.
What is your position on the team?
I work with the different Non-engineering side, mostly safety, media, and operations.
What have you been working on?
I've been working on picking pictures for our scrapbook and organizing the safety manual.
What is your favorite part of Red Alert?
I love the bonds between team members. It's really fun to hang out with your friends so much.
What are your after graduation plans? College? Major?
I plan on finishing my associate's degree at Ivy tech and getting certified as a phlebotomist and hopefully, getting a job in a hospital.
If your 5-year old self suddenly found themselves inhabiting your body, what would they do first?
My 5-year old self would probably get really excited about being tall, then quickly realize that I'm still too short to reach anything important.
What inanimate object do you with you could eliminate from existence?
Dolls, especially clown dolls. They are so creepy…